With the summer season here, it is the perfect time to try different varieties of ice cream. However, if you do not store it properly, it can start to melt and become unusable. Two of the most important aspects of storing ice cream include ensuring that it is in a safe place and at the right temperatures.
Store the Ice Cream in an Airtight Container
One of the easiest things to make homemade ice cream last longer is to store it in an airtight container. Of course, you'll want to avoid using plastic containers, which may get brittle when frozen. Instead, use freezer-friendly containers such as Tupperware.
If you have a lidded container, it is even easier to store and organize your ice cream since you can stack it. But if you don't have a lidded container, press a layer of plastic wrap directly over the product as it begins to melt. The plastic wrap will prevent ice crystals from forming and destroying the texture of your ice cream.
Polar King units can be customized with many accessories to optimize storage. Shelves, digital thermometers, and temperature data recorders can all help make sure the ice cream stored in your Polar King stays perfectly frozen. Our seamless fiberglass units also allow for temperatures 0°F and lower."
Protect the Ice Cream from Freezer Odors
It's a common problem to have bad odors in fridges and freezers if you keep many strong-smelling foods. These smells can transfer from your fridge to the freezer and mix with your ice cream, altering its flavor.
To solve the problem, you need to block out those smells. The best way is to store an open box of baking soda in both the fridge and the freezer.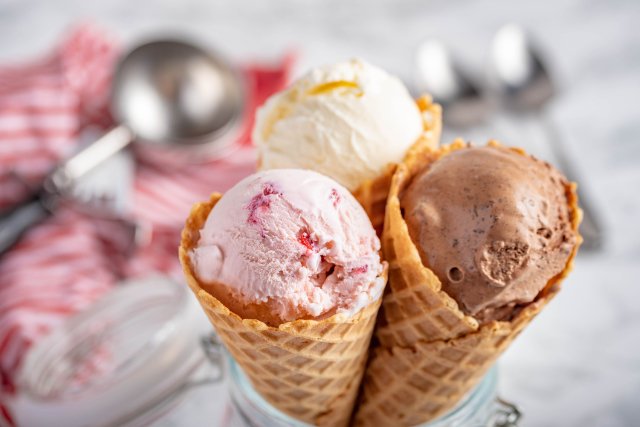 Use the Right Freezer Temperatures
Using the right freezer temperature to store your ice cream to its optimal freshness is a matter of food security. According to the International Dairy Foods Association (IDFA), the optimum temperature for preserving the product should be 0°F (-18°C) or colder if you intend to keep it consumable almost indefinitely.
Maintain A consistent Freezing Temperature
Once you have achieved the right freezing temperatures for preserving your ice cream, you should ensure consistent freezing temperatures. If ice cream warms and cools, it develops large ice crystals that ruin its taste and texture.
Since 1982, Polar King has been manufacturing outdoor walk-in cooler and freezer units as well as refrigerated trailers. All Polar King units feature a seamless fiberglass design and are constructed and designed specifically for outdoor usage. Walk-in and trailer units incorporate foam insulation completely encased in fiberglass, both inside and out. This construction method provides superior structural strength since it forms a one-piece unit. With one of the most comprehensive manufacturer warranties in the industry, the Polar King limited warranty provides 25-year coverage for the internal foam insulation as well as 12-year coverage for the walk-in structure. Whether you need a cooler, freezer, combination unit, or refrigerated trailer, Polar King offers the flexibility required in the foodservice industry.
About Polar King
As the industry's #1 manufacturer of seamless fiberglass outdoor walk-in coolers and commercial walk-in freezers, Polar King units are designed to endure even the most rugged conditions and climates. All Polar King commercial walk-in coolers and outdoor walk-in freezers are delivered fully assembled and require only a simple electrical connection to put them into operation. With a 100% seamless fiberglass design, Polar King offers the industry's only one-piece, outdoor unit. To learn more about the fiberglass advantage or for more information, call 888-647-8231 or visit www.polarking.com.