This highly customized trailer unit was built for an aerospace customer of ours located in San Diego, California. Our client required a large sub freezer mounted on a trailer that could hold an excess weight of materials. They also required the unit to meet several energy and emission standards, specifically those in the State of California.
Thermo King S-700 Refrigeration Unit
This custom trailer features a Thermo King S-700 refrigeration unit. As part of Thermo King's Precedent S-Series, the S-700 is a >25 horsepower engine that provides emission control technologies in order to minimize fuel consumption. With the ability to handle deep-frozen loads, the S-700 offers superior temperature control while delivering double digit fuel savings. Additionally, this custom trailer unit meets the standards required for the Energy Independence and Security Act compliance.
Smart Reefer SR-4 Controller
Diesel Direct Electric (DDE)
Common Rail Fuel Injection
Electronic Fuel Injection with Real-Time Fuel Monitoring and Recording
Custom Trailer with Reinforced Floor Load
The unit is a custom trailer with two 20,000 lb. 10' wide air-ride axles. The sub freezer mounted to the trailer is a 11' x 33' unit with three sets of 54" double doors. Due to the weight and size of these doors, we also added corner reinforcements and steel reinforcements on the perimeter.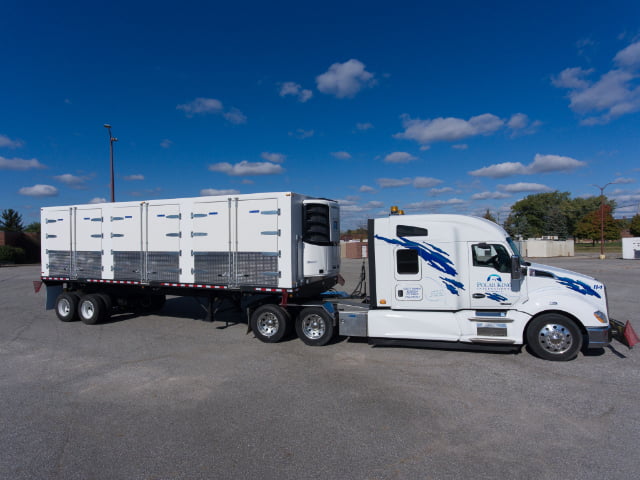 To protect the unit and doors from accidental damage by hand trucks or pallet jacks our client also upgraded to an aluminum diamond tread kick plate on both the inside and outside of the doors. The interior also features pallet jack duty flooring, aluminum duct flooring and a pallet bumper guard. This is for the weight of the products to be stored and for added protection when loading and unloading products.
Sub Freezer Custom Paint Job
This trailer unit also features a custom paint job. In this case, our client elected to go with Safety White on the exterior of the unit.
Standard Equipment
Standard equipment included on this custom trailer include single point electrical connection, anti-microbial interior finish, defrost timer and low ambient pressure controls.
Custom Features:
Custom Trailer with (2) 20k lb. Axles with Air Ride and 11'x33' Sub Freezer
Double Fiberglass Thickness and Reinforcements
ThermoKing S-700 with Electric Standby and REB Tracking
3 Sets of 54" Double Doors with 30" High ADT Kickplates
Pallet Jack Rated Floor with Pallet Bumper Guard
Custom Ladders Under Doors