This 11'x7' free-standing walk-in cooler freezer combo was custom built for Camp Chestnut Ridge in Efland, North Carolina. Our client required a free-standing unit that could provide both walk-in freezer and walk-in cooler applications.
Polar King Past Project: Educational Summer Camp and Retreat
Center Mount Evaporator Coil
The walk-in refrigerator section of the unit features a center mount evaporator coil. This allows higher ceiling space, which adds additional storage. Entering each compartment, we have installed vinyl strip curtains on the door frames. These vinyl strip curtains add an extra layer of efficiency to the unit by not letting heat into the inside of the walk-in.
Nexel Poly Z Brite Shelving
Our client also requested shelving throughout the interior of the unit. We installed Nexel Poly Z Brite Shelving throughout the interior. At Polar King, we assemble all the shelving and place it into the unit, saving both time and labor once the unit arrives.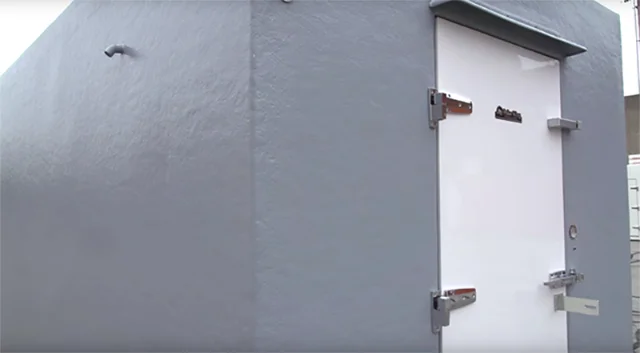 Custom Paint Job
Additionally, this unit has a custom paint job. Our client simply provided us with a PMS color sample, which we matched at no additional charge.
Standard Equipment
A few standard options included in this application are an antimicrobial interior finish, external hasp lock, remote thermometer, and a defrost timer.
Polar King Past Project Features:
Cooler/Freezer Combination
Center Mount Evaporator Coil
Defrost Timer
Remote Thermometer
External HASP Lock
Energy Efficient Vinyl Strip Curtains
PMS Color Matched Custom Paint Job
Nexel Poly Z Brite Shelving
About Polar King International
The introduction of the Polar King outdoor walk-in freezer into the food service industry was the result of three generations of walk-in refrigeration technology and experience. Polar King's fiberglass, one-piece walk-in cooler is the natural evolution of the walk-in cold storage industry from the conventional metal panel constructed unit. In early 1982, Polar King began operations by constructing and shipping walk-ins from a modest 12,000 sq. ft. facility in New Haven, Indiana. As demand grew for outdoor fiberglass commercial walk-in coolers and commercial walk-in freezers, production was moved to a 251,200 sq. ft. facility located in Fort Wayne, Indiana. For 40 years, Polar King has provided thousands of walk-ins to single-unit operators, chain restaurants, schools, health care facilities, government agencies, and many other industries requiring dependable outdoor walk-in refrigeration. For more information, visit polarking.com or contact Polar King, 4424 New Haven Ave, Fort Wayne, IN 46803 USA at 877-224-8674.