Polar King Past Project: Automotive Chemical Storage. Polar King built this customized 6'x12' explosion proof trailer for an automotive company in Arizona. They required a mobile trailer unit that could provide safe and effective chemical storage. The called for several additional safety features as well as a unit that complied with chapter 5 of the National Electric Code. 
Polar King Past Project: Automotive Chemical Storage
Class 1, Division 2 Explosion Proof Unit
This refrigerated trailer unit was required to store temperature sensitive chemicals for the automotive industry. In order to safely store these chemicals, our client required a class 1, division 2, explosion proof refrigerated trailer.
Class 1: Flammable gases or vapors are present in the air in quantities sufficient to produce explosive or ignitable mixtures.
Division 2: The substance referred to by class is present only in abnormal conditions, such as a container failure or system breakdown.
Lift Gate and Stabilizer Jacks
Due to an employee safety program, our client elected to include a rear lift gate with stabilizer jacks. The lift gate allows users to easily move heavy or large barrels of chemicals in and out of the unit. They can also raise or lower the barrels, rather than haul them up a ramp.
For stability purposes, there are two stabilizer jacks. These ensure the unit will not tip backwards while loading and unloading.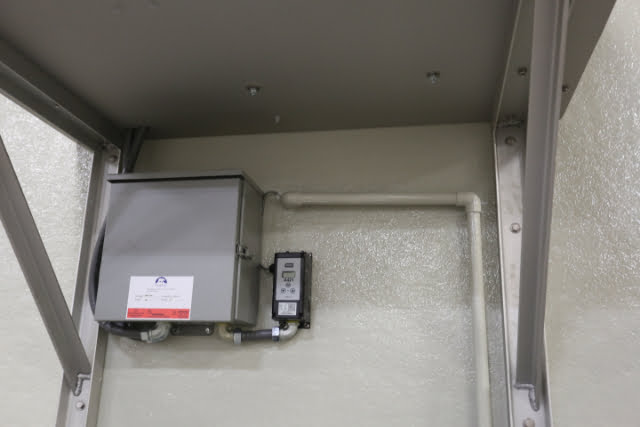 Standard Equipment
Standard equipment included on this custom trailer includes antimicrobial interior finish, bright interior lighting, and low ambient pressure controls.
Custom Features:
Lift Gate
Galvanized E-Track
C1D2 Interior
Battery and Trickle Charger
Grounding Rod
Electric Jack
Rear Stabilizer Jacks
Spare Tire and Wheel Assembly
6000 lbs. Axle
Polar King Hazardous Locations Use
Polar King can provide explosion proof and explosion proof refrigerators for hazardous (classified) locations use. Whether you need a standard explosion proof walk-in freezer or a customized unit, we can take care of your requirements. We offer Class 1, 2, and 3, and Division 1 and 2 ratings for the interior and exterior cooler and freezer units of the walk-in module. All of our units comply with Chapter 5 of the National Electric Code. Our explosion proof refrigerator freezer units can offer gas detection system (LEL) and/or an integrated 500-gallon containment sump. Below are the classifications inside North America.