This 10'x16' freestanding walk-in cooler was custom-built for a client that specializes in honeybee research and conservation. They required a unit that could not only offer precise and consistent temperatures but also maintain proper ventilation.   
Ventilation and Monitoring Options
Because cold weather can decimate bee colonies, indoor cold storage is used to improve survival chances while also increasing colony size and strength. In addition to a steady and reliable temperature range, proper ventilation and CO2 monitoring are required. Therefore, our client elected to add an exhaust fan with a timer and intake vent. Additionally, we have added a CO2 monitor with display. This allows convenient and easy access to CO2 levels.  
Vinyl Strip Door Curtains
The doorway entering the walk-in bee cooler has two vinyl strip curtains. This further helps to minimize cold air loss as persons enter and leave the unit. The door itself, which comes standard, is a one-piece seamless design. This adds extra efficiency and does not allow moisture to penetrate the door.
Polar King Standard Equipment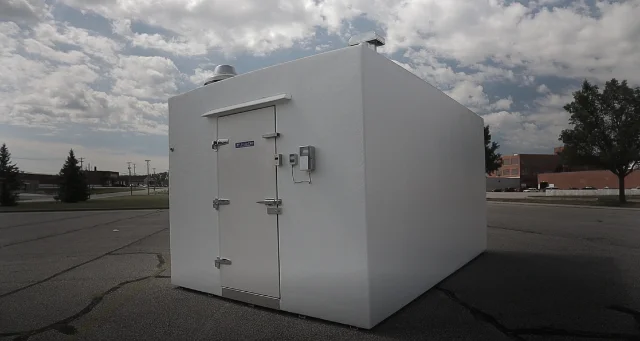 Other standard equipment on this outdoor walk-in bee cooler includes a condensate line, defrost timer, exterior hasp lock, and low ambient pressure controls. As always, each Polar King unit comes with an antimicrobial interior finish and are NSF certified.
Comprehensive Warranty
Additionally, each Polar King commercial walk-in freezer comes standard with a comprehensive warranty that includes 25-year coverage for the insulation, 12 years for the structure of the unit, and 5 years on the compressor.   
Features
Vinyl Strip Door
(2) 115 Volt Outlets
6" Roof Insulation
Two Part Polyurethane Paint
Exhaust Fan with Timer and Intake Vent
CO2 Monitor with Display
About Polar King International  
The introduction of the Polar King outdoor walk-in freezer into the foodservice industry was the result of three generations of walk-in refrigeration technology and experience. Polar King's fiberglass, one-piece walk-in cooler is the natural evolution of the walk-in cold storage industry from the conventional metal panel constructed unit. In early 1982, Polar King began operations by constructing and shipping walk-ins from a modest 12,000 sq. ft. facility in New Haven, Indiana. As demand grew for outdoor fiberglass commercial walk-in coolers and commercial walk-in freezers, production was moved to a 204,000 sq. ft. facility located in Fort Wayne, Indiana. For 40 years, Polar King has provided thousands of walk-ins to single-unit operators, chain restaurants, schools, healthcare facilities, government agencies, and many other industries requiring dependable outdoor walk-in refrigeration. For more information, visit polarking.com or contact Polar King, 4424 New Haven Ave, Fort Wayne, IN 46803 USA at (888) 647-8231.