Foods such as meat, poultry, and eggs are required to be refrigerated or frozen after processing as well as during storage and shipment. The improvement of food safety protection methods is important in order to control hazards such as contamination, spoilage, and the growth of pathogens. Through each point in the food distribution chain, the use of preventive methods and effective control measures are essential to prevent unintentional contamination. The U.S. Food and Drug Administration recently announced new regulations specifically aimed at preventing cases of foodborne illnesses associated with the consumption of contaminated eggs.  These new regulations require additional preventive measures during the production, storage, and transportation of eggs and egg-related products.
General Guidelines
During transportation and storage of eggs or products containing eggs, maintaining a proper temperature is critical in order to keep the "cold-chain" from breaking. Effective preventative control measures are required to avoid contamination or other related hazards.
In Transit
According to the United States Department of Agriculture (USDA), during the delivery of eggs, there are a number of preventative measures that must be followed while the products are in transit. Following these USDA guidelines will help prevent product damage or spoilage.
Periodically Check the Integrity of the Load during Transit.
Check for Leakage of Heating or Cooling Fluid onto Food Products.
Monitor the Temperature and Function of the Refrigeration Unit every 4 Hours.
In the Case of Refrigeration Malfunction, the Problem Should be corrected by an Authorized Refrigeration Technician before the Temperature of the Load Rises.
Check for Breakdown of Temperature Control.
Use Time Temperature Recording, Indicator, or Integrator Devices, if they are available, to Monitor the Condition of Cargo. Check these Devices every 4 hours.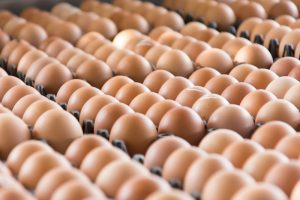 Holding Temperature Requirements  
All eggs designated for human consumption are required to be held at a temperature not exceeding 45° F. ambient temperature. Additionally, eggs must be kept from freezing, and therefore cannot fall below 29° F.  This temperature requirement must be followed from the point of candling, grading, processing, and transportation until they reach the retailer.
Held at Temperature Not Exceeding 45° F
Kept from Freezing 29° F
Transportation Vehicle Requirements
Vehicles used to transport eggs should be designed and constructed specifically to protect sensitive food products. These trucks, trailers or other vehicles should be secured with a locking system to protect from tampering or theft. Additionally, they should be sufficiently sealed and insulated to shield from extreme temperature and pest infestations. It is recommended to use dedicated vehicles to transport food products only. If possible, restrict vehicle use to a single commodity, such as meat, poultry, or eggs. This will help to ensure incidences of cross-contamination are minimized or otherwise avoided.
Prior to shipping, trailers, trucks, and other vehicles used to transport eggs are recommended to be pre-cooled for at least 1 hour before loading. This is suggested in order to remove any residual heat from the insulation or inner lining of the trailer, as well as from the air of the trailer. To perform pre-cooling, the vehicle doors should be closed with the temperature setting no higher than 26 °F.
Why Polar King?
Polar King outdoor walk-in units and refrigerated trailers are a long-term and reliable solution for storing and transporting sensitive products such as eggs. The design and rugged fiberglass materials used to build Polar King units provide a seamless interior and exterior. Not only does this provide operational advantages, but also helps keep the unit free of moisture damage as well as the formation of harmful bacteria. With the seamless design and since all of the interior corners are rounded, the units are easily cleaned and sanitized.
All Polar King walk-in units and refrigerated trailers have an operating temperature between -10° F to 40° F. Each unit is tested above 175° F to ensure operational performance and temperature retention. This guarantees the integrity of products stored or transported regardless of the weather climate, such as extreme heat or cold. Additionally, the fiberglass materials used in construction, allows a Polar King unit to withstand blowing debris or other abuse associated with intense weather events.