Polar King International, Inc. announces that company representatives Barry Tippmann and Dan Parsenow will be presenting the company's line of outdoor walk-in cooler and walk-in freezer units at the 2017 North American Association of Food Equipment Manufacturers (NAFEM) Show. The convention takes place in Orlando, Florida inside the Orange County Convention Center. The NAFEM Show runs from February 9-11, with the Polar King exhibit located at booth 408.
Since 1982, Polar King has been manufacturing outdoor walk-in cooler and freezer units that feature a seamless fiberglass design. All Polar King walk-in units are constructed and designed specifically for outdoor usage and can withstand even the most extreme elements and conditions.  All Polar King units incorporate foam insulation completely encased in fiberglass, both inside and out. This construction method provides superior structural strength since it forms a one-piece unit. With one of the most comprehensive manufacturer warranties in the industry, the Polar King limited warranty provides 25-year coverage for the internal foam insulation as well as 12-year coverage for the walk-in structure. Whether you need a cooler, freezer, combination unit or refrigerated trailer, Polar King offers the flexibility required in the foodservice industry.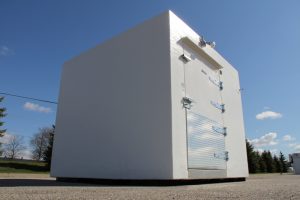 The NAFEM Show is an annual event designed to bring foodservice professionals and equipment manufacturers together for networking and product demonstrations. With over 500 exhibitors, attendees can find manufacturers from a variety of market segments including c-store/grocery, concession, restaurants and travel/lodging. The theme for this year's show is energy, enlightenment, and a fresh point of view on business success.
About Polar King
As the industry's #1 manufacturer of seamless fiberglass outdoor walk-in coolers and walk-in freezers, Polar King units are designed to endure even the most rugged conditions and climates. All of our walk-in coolers and freezers are delivered fully assembled and require only a simple electrical connection to put them into operation. With a 100% seamless fiberglass design, Polar King offers the industry's only one-piece, outdoor unit. To learn more about the fiberglass advantage, or for more information, call 800-752-7178, visit www.polarking.com or stop by booth 408.
Contact
Polar King International, Inc.
Barry Tippmann, Dan Parsenow
(800)-752-7178