Polar King International, Inc. has bolstered its manufacturing capabilities by adding two new 5,200-gallon resin tanks. These tanks play a pivotal role in the manufacturing process, serving as dedicated storage units for the essential resin that is used to coat and insulate Polar King's walk-in refrigerated and freezer units.
Polar King Strengthens Manufacturing Capabilities with Dual 5,200-Gallon Resin Tanks
Steve Lawrence, project-facility engineer, underscores the significance of this investment as a response to meet escalating demand while maintaining the highest safety standards. He explains, "These on-site tanks expedite the manufacturing process by efficiently storing the resin, a critical element that acts as a protective layer, ultimately leading to a substantial improvement in the durability and performance of our walk-in refrigerated and freezer units."
To further ensure quality and safety, Polar King's advanced resin tanks are equipped with pneumatic pumps, valves, and controls. Additionally, the company has installed two explosion-proof lights in the tank room, demonstrating its commitment to setting an industry benchmark for safety.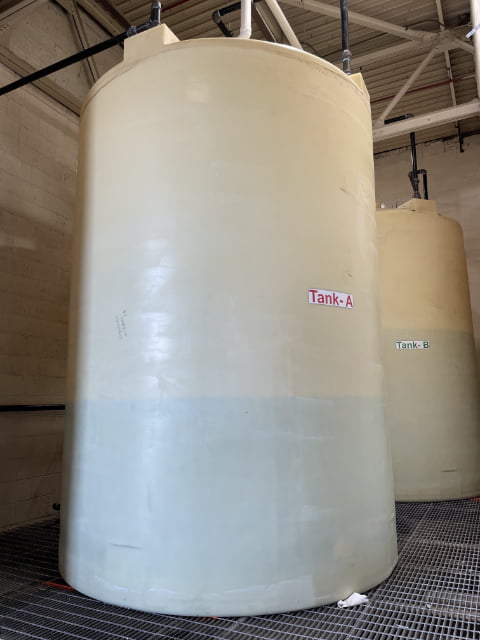 Beyond its standard cold storage solutions, Polar King offers custom paint exteriors, facilitating the seamless integration of units into the surrounding environment.
Polar King offers electric ground-resting outdoor walk-in freezer and refrigerator units for a plethora of industries, including the food service, pharmaceutical, catering, school administration, hospital, first responders, and government industries. The units are American-made, delivered preassembled, and feature a 100% seamless fiberglass design that provides a continuous surface with rounded insulated corners to promote a sanitary environment.
For more information about Polar King and its refrigerated and freezer walk-in units, call (888) 647-8231 or visit www.polarking.com.
About Polar King International 
The introduction of the Polar King outdoor walk-in freezer into the food service industry was the result of three generations of walk-in refrigeration technology and experience. Polar King's fiberglass, one-piece walk-in cooler is the natural evolution of the walk-in cold storage industry from the conventional metal panel constructed unit. In early 1982, Polar King began operations by constructing and shipping walk-ins from a modest 12,000 sq. ft. facility in New Haven, Indiana. As demand for outdoor fiberglass commercial walk-in coolers and commercial walk-in freezers grew, production was moved to a 204,000 sq. ft. facility located in Fort Wayne, Indiana. For 40 years, Polar King has provided thousands of walk-ins to single-unit operators, chain restaurants, schools, healthcare facilities, government agencies, and many other industries requiring dependable outdoor walk-in refrigeration. For more information, visit polarking.com or contact Polar King, 4424 New Haven Ave, Fort Wayne, IN 46803 USA at (877) 224-8674.