The specific needs of each application can vary. That's why Polar King offers a wide spectrum of custom interior features and optional accessories to make your walk-in even more suitable for your facility.
Custom Interiors and Optional Accessories
Our highly customized walk-ins can be designed with minimal limitations, much like the construction of a new building. From units with beer taps with tapper lines to intricate meat hanging and rail systems, we've designed and built some of the most highly customized refrigeration applications in the world.
Custom Interiors: Accessories and Options
Temperature Data Logging and Monitoring Systems
Digital Thermometer with Temperature Alarm
Interior and Exterior Door Ramps
Stainless Steel Kick Plates
54" Door 
Insulated Door Viewing Windows
Glass Display Doors
Vinyl Strip Curtains
Shelving Package
Interior Bumper Guards
Reinforced Floor Load
Security Hasp Locks
Butcher Hooks
Overhead Rail System
Beer Taps with Tapper Lines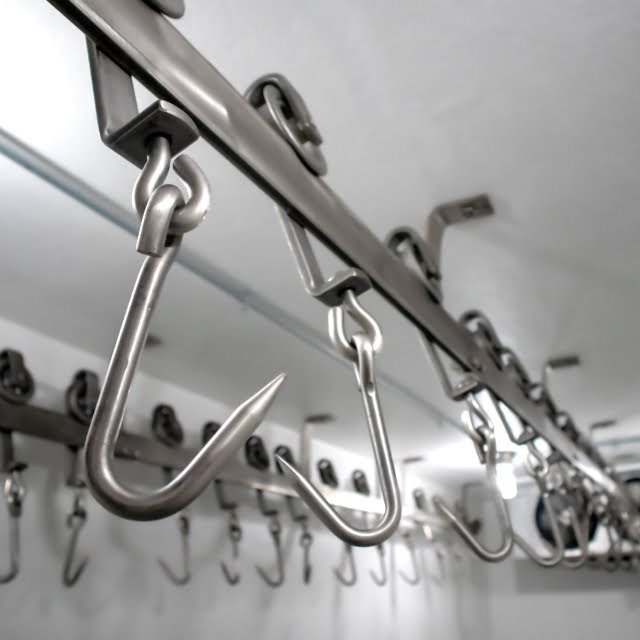 Shelving Packages for Freezers and Coolers
Storage and organization is an important aspect in many industries. Polar King can provide adjustable vinyl-coated shelving or stainless-steel shelving for your freezer or cooler. As an optional upgrade, Polar King can install a heavy-duty stationary or removable rack system throughout the interior of your walk-in unit. We offer a number of configurations, sizes, and styles of shelving, and we can also customize any shelving requirements that may be needed.
 About Polar King International 
The introduction of the Polar King outdoor walk-in freezer into the foodservice industry was the result of three generations of walk-in refrigeration technology and experience. Polar King's fiberglass, one-piece walk-in cooler is the natural evolution of the walk-in cold storage industry from the conventional metal panel constructed unit. In early 1982, Polar King began operations by constructing and shipping walk-ins from a modest 12,000 sq. ft. facility in New Haven, Indiana. As demand grew for outdoor fiberglass commercial walk-in coolers and commercial walk-in freezers, production was moved to a 204,000 sq. ft. facility located in Fort Wayne, Indiana. For 40 years, Polar King has provided thousands of walk-ins to single-unit operators, chain restaurants, schools, healthcare facilities, government agencies, and many other industries requiring dependable outdoor walk-in refrigeration. For more information, visit polarking.com or contact Polar King, 4424 New Haven Ave, Fort Wayne, IN 46803 USA at (877) 224-8674.