It's no secret having an energy-efficient restaurant walk-in cooler or freezer saves electricity and costs less to operate, but did you know how you organize your walk-in cooler or freezer can make a big difference on your bottom line?
Following best practices for organizing your commercial walk-in cooler or freezer can help:
Keep your ingredients fresh. Ingredients are expensive — especially in today's economy. Keeping them at the right temperatures helps them stay fresh longer, improving the quality of your foods and reducing waste.
Comply with health codes. Proper organization aligns with walk-in cooler and freezer safety requirements, leaving you one less thing to worry about.
Make taking inventory easier. Having a consistent and reliable system saves time lost due to looking for misplaced items and reduces errors that can lead to running out of needed ingredients.
Reduce labor. Good systems reduce effort and free your workers to do other tasks or clock out earlier. Proper walk-in cooler or freezer organization means less time stocking or hunting for items and less time cleaning up at the end of the day.
Extend the life of your commercial walk-in cooler or One way to reduce the cost per year of your depreciable assets is to keep them going as long as possible. Proper storage practices reduce strain on your cooler or freezer, reducing the amount of work it needs to do to reach the desired temperature and increasing its useful life. Choosing superior-quality walk-in units from Polar King that stand the test of time can add even more value for your investment.
Plan for thermodynamics
Understanding how air at different temperatures interacts can help you create the best plan for walk-in cooler or freezer organization.
When the door to your unit opens, warm air from the outside rushes in, displacing colder air and pushing it outside. Once inside the unit, the warmer air rises to the area closest to the ceiling. How significant a temperature increase this will be depends on several factors, including how often the door is opened, how long it remains open, and the difference in temperature between the warmer and colder air.
Because of this interaction, the area around the door of your walk-in and areas of higher elevation will experience the biggest temperature fluctuations.
Location, location, location
If you understand how air of different temperatures interacts, it makes sense that the best place to keep more sensitive and costly foods is farther from the door and closer to the floor.
Place high-value meats and seafood as far from the door as possible on the appropriate level for their cooking temperatures. Poultry products should be kept on the bottom shelves, beef above poultry, pork above beef and seafood on top.
It makes financial sense to keep your higher-priced ingredients colder to protect against faster spoilage. It also makes sense from a safety standpoint, since those same items are the ones most likely to cultivate hazardous bacteria as their temperatures rise.
All foods should be placed on wire cooler shelves at least six inches above the floor for sanitary purposes.
Walk-in cooler organizational chart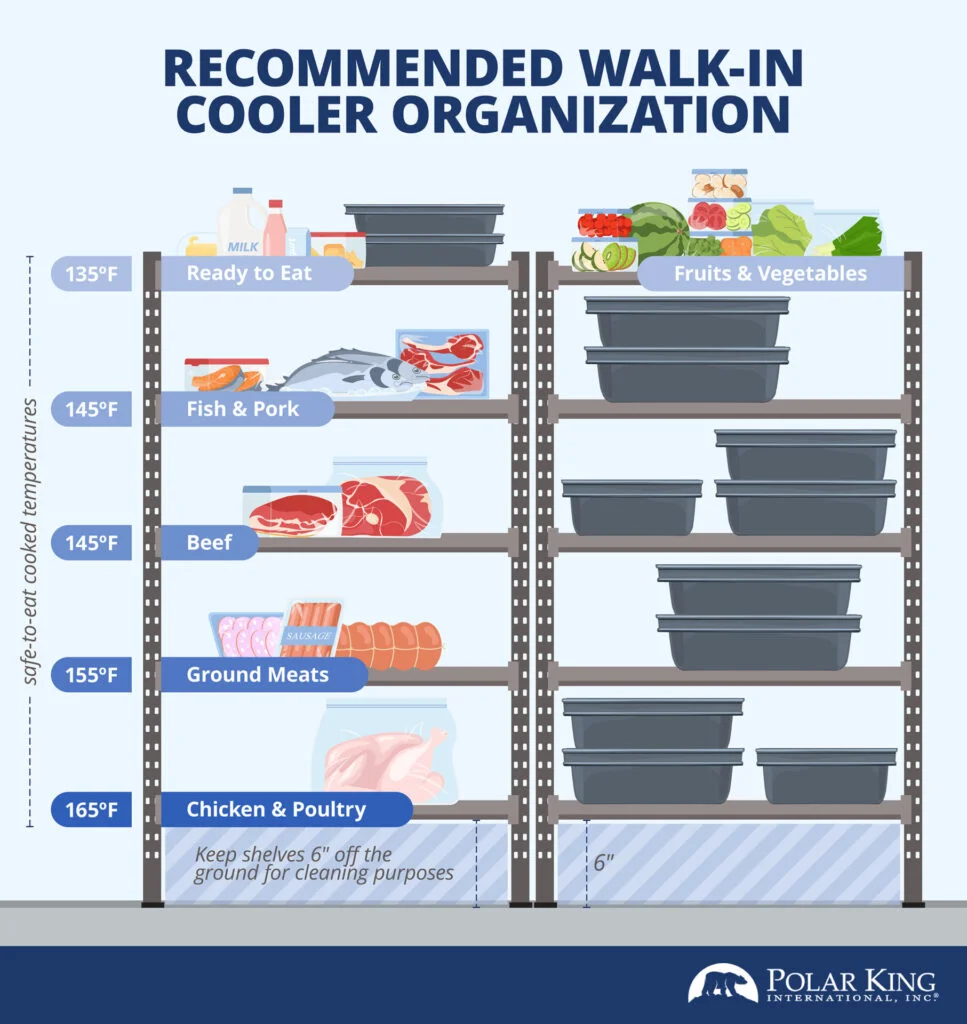 Download printable walk-in cooler organizational chart
Go with the flow
The key to avoiding warm-air pockets and keeping items in your commercial walk-in freezer or cooler at a consistent temperature is airflow. Commercial walk-in coolers and freezers have fans to circulate the air throughout the unit, but airflow can easily be blocked by large solid objects. Keeping airflow in mind as you determine how to organize your walk-in cooler or freezer will set your operation up for cooling success.
DON'T use solid shelving in your commercial walk-in cooler or freezer
Solid shelving stops air from passing between items, encouraging mold growth and odor.
DO use wire cooler shelving
Wire cooler shelves allow airflow around individual items, evaporating moisture.
DON'T overpack your commercial walk-in cooler or freezer
Overpacking eliminates essential space that is needed between items.
DO stock your commercial walk-in cooler or freezer with an appropriate amount of food
Allowing space between foods allows each item to cool to the desired temperature.
DON'T store items in cardboard boxes
Porous boxes block airflow and trap particles, moisture, and bacteria and encourage mold growth.
DO remove items from boxes
Separated items without boxes take up less room, leaving more space for air to flow.
DO use metal and plastic containers
Metal and plastic are non-porous and do not absorb moisture and bacteria.
A place for everything and everything in its place
An orderly kitchen does more than look nice. It creates an environment that encourages productivity and efficiency. It helps eliminate wasted time, allowing your staff to do better quality work and accomplish more in less time.
You can help optimize your walk-in cooler and freezer organization with standardized placement for your cold items. Add item placement labels to your shelving, and train your staff to stock items in the same location every time with the oldest items in front to minimize spoilage.
Display a walk-in cooler organizational chart on your cooler shelves for easy reference. (Download our chart here.)
Stocking items in the same place every time:
Reduces the amount of time your staff members spend away from other tasks
Eliminates waste caused by items that can't be located
Simplifies and reduces time needed to take inventory
Create and follow a regular maintenance schedule
Want an easy way to keep your restaurant walk-in cooler or freezer clean and sanitary? The right equipment makes it possible.
Store food on wire cooler shelving to not only allow airflow to pass through but also minimize surfaces that can collect food particles, dirt and moisture. Choosing cooler shelves on casters makes it easy to reposition items for easy cleaning.
Cleanup is a snap with Polar King commercial walk-in coolers and freezers. All of Polar King's commercial walk-in coolers and freezers feature high-quality 100% seamless fiberglass surfaces without any cracks or crevices that can trap moisture and create a breeding ground for mold and bacteria.
Be sure to create and follow a maintenance schedule appropriate for your storage and usage needs to make sure your equipment meets or exceeds walk-in cooler or freezer safety requirements.
Extend the life of your investment with Polar King commercial walk-in coolers and freezers
Want to build on the efficiency you can gain with your walk-in cooler and freezer organization? Polar King walk-ins' exceptional quality and performance can add even more value to your investment.
Our units are built with your needs in mind. Want to use every inch of an irregularly shaped space? We can build a unit to your exact dimensions. Want to increase your cold storage capacity and the usable space in your operation? We can deliver a free-standing or through-wall commercial walk-in cooler or freezer fully assembled and ready to operate with a simple electrical hookup.
Our rust-proof units are built of durable, easy-to-clean, 100% fiberglass surfaces inside and out, making them the best choice for both hot and cold climates.
Your partner in efficiency
Whether you're ready for a new commercial walk-in cooler or freezer now or are trying to make the most of your current equipment, Polar King is here to help you make your operation as efficient and profitable as possible.
Have questions about walk-in cooler or freezer organization or how Polar King walk-ins can help increase your bottom line? Contact us today to get started on the road to higher profits.