Expedite delivery and lower costs with new truck trailers. Polar King International, Inc. president Dave Schenkel announces the company is updating its fleet to incorporate new, state-of-the-art truck trailers. Schenkel says this significant equipment investment will facilitate quicker delivery of its walk-in coolers and freezers at a lower cost to customers. 
Polar King's new custom-built line haul trailers are designed to accommodate the transport of more walk-in cold storage units in a single trip, resulting in savings that the company says it will pass down to customers. 
Expedite Delivery and Lower Costs
"These trailers are customized to match our exact specifications and maximize capacity for larger Polar King units," Schenkel says. "With our enhanced fleet, the number of oversize permits and escorts required for each trip is greatly reduced, thereby saving customers both time and money on delivery."
Polar King offers electric ground-resting outdoor walk-in freezer and refrigerator units that are delivered preassembled and ready to operate with a simple electrical connection. Polar King's 100% seamless fiberglass design provides a continuous surface with rounded insulated corners to promote a sanitary environment.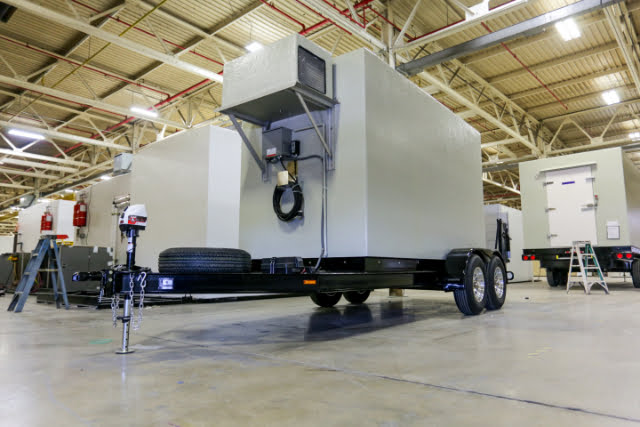 Polar King uses fiberglass to reduce the potential for rusting, denting, or corroding. The many innovative design features of these units cut operating costs, lower power bills, decrease maintenance/repair expenses, and eliminate construction and replacement costs.   
For more information about Polar King and its walk-in units, call (888) 647-8231 or visit www.polarking.com.
About Polar King International
The introduction of the Polar King outdoor walk-in freezer into the food service industry was the result of three generations of walk-in refrigeration technology and experience. Polar King's fiberglass, one-piece walk-in cooler is the natural evolution of the walk-in cold storage industry from the conventional metal panel constructed unit. In early 1982, Polar King began operations by constructing and shipping walk-ins from a modest 12,000 sq. ft. facility in New Haven, Indiana. As demand grew for outdoor fiberglass commercial walk-in coolers and commercial walk-in freezers grew, production was moved to a 204,000 sq. ft. facility located in Fort Wayne, Indiana. For 40 years, Polar King has provided thousands of walk-ins to single-unit operators, chain restaurants, schools, healthcare facilities, government agencies, and many other industries requiring dependable outdoor walk-in refrigeration. For more information, visit polarking.com or contact Polar King, 4424 New Haven Ave, Fort Wayne, IN 46803 USA at (888) 647-8231.