Flooring is a troublesome aspect that walk-in manufacturers often face. In fact, many walk-in manufacturers don't even recommend their own floor systems but rely on insulated concrete pads covered with quarry tile. Heavy loads and traffic soon damage such floors, translating to added maintenance costs. All Polar King walk-in coolers and freezers feature a certified and tested flooring system that is designed specifically for heavy abuse and traffic.
Concentrated Load Test Data
Available floor ratings range from 700 lbs. / sq. ft. of heavy traffic and can go up to 5000 lbs. / sq. ft. with a pallet jack reinforced floor. Data from the ASTM E661 Concentrated Load Test, conducted by Progressive Engineering, Inc., shows Polar King's flooring has the ability to withstand heavy loads.
Polar King Walk-in Flooring Ratings:
Standard Heavy-Duty Floor: 700 lbs. for 3" DIA point load
Keg Duty Floor: 1,600 lbs. for 3" DIA point load
Pallet Jack Duty Floor: 5,000 lbs. for 3" DIA point load
Standard Heavy-Duty Floor
All Polar King units come with our standard heavy-duty flooring system. This 4" insulated floor is encased in fiberglass and permanently bonded to the unit, creating a seamless interior. With the capacity to support 700 lbs. / sq. ft. of evenly distributed load, our standard heavy-duty floor is ideal for deliveries and general storage.
Custom Walk-in Flooring Solutions
As with all Polar King units, we can customize the floor load rating to meet your specific storage requirements.
Keg Duty Flooring
Our Keg Duty Flooring provides support for 1,600 lbs. / sq. ft. of evenly distributed load. This is an enhanced flooring system that is suitable for heavier loads, two and four-wheeled carts, and other larger products.
Pallet Jack Duty Flooring
Our Pallet Jack Duty Flooring is our most secure flooring system with 5,000 lbs. / sq. ft. of evenly distributed load support. This is the perfect solution for users that require pallet jack support for extremely heavy products.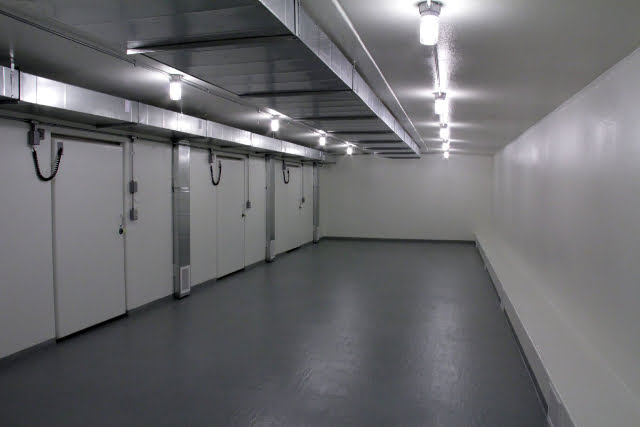 Anti-Microbial Interior and Non-Slip Flooring
All Polar King outdoor walk-in coolers and freezers meet the strict requirements required for NSF Certification. The seamless fiberglass design forms a one-piece structure that allows the interior to be easily cleaned, including the ability to wet mop the floor. Additionally, a skid resistance surface coating provides better traction, enabling safer loading and unloading.