Hazardous Locations and How Polar King Can Help. According to the National Fire Protection Association (NFPA), hazardous locations are defined as premises, buildings or parts thereof where fire or explosion hazards may exist due to the presence of flammable gases or vapors, flammable liquids, combustible dusts, or easily ignitable fibers or flyings. Due to the fire and explosion risk in these hazardous locations, there are several classification, divisions and zones implemented to provide guidance on equipment purchases. Since there is a possibility that electrical equipment and components can cause explosions or fire in certain atmospheres, special wiring and other safety precautions must be taken to prevent these instances. In North America, the most widely used hazardous location classification system is defined by the NFPA Publication 70, National Electric Code® (NEC) in Articles 500 to 506. This publication details the types of hazardous substances that may be present in the air as well as quantities that are sufficient to produce explosive or fire.
Classes and Divisions per NEC article 500, CEC section 18
Classes define the type of explosive or ignitable substances with are present in the atmosphere.
Class 1
Flammable gases or vapors are present in the air in quantities sufficient to produce explosive or ignitable mixtures.
Class 2
Combustible or conductive dusts are present.
Class 3
Ignitable fibers or flyings are present, but not likely to be in suspension in sufficient quantities to produce ignitable mixtures. (Group classifications are not applied to this class)
Divisions define the likelihood of the hazardous materials being present in a flammable concentration.
Division 1
The substance referred to by class is present during normal conditions, in which ignitable concentrations of hazards exists under normal operation conditions and or where hazard is caused by frequent maintenance or repair work or equipment failure.
Division 2
The substance referred to by class is present only in abnormal conditions, such as a container failure or system breakdown. Ignitable concentrations of hazards are handled, processed or used but which are normally in closed containers or closed systems from which they can only escape through accidental rupture or breakdown of such containers or systems.
Zones define the length of time hazardous explosive or ignitable substances are present in the atmosphere.
Zone 0
Hazardous, explosive or ignitable substances are present continuously or for long periods of time.
Zone 1
Hazardous, explosive or ignitable substances are likely to be present or are frequently (but not continuously) present under normal operating conditions.
Zone 3
Hazardous, explosive or ignitable substances are present only under abnormal conditions or only for short periods of time.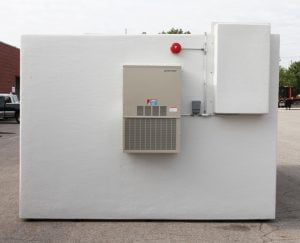 About Polar King
As the industry's #1 manufacturer of  seamless fiberglass Outdoor Walk-In Coolers and Walk-In Freezers, Polar King units are designed to endure even the most rugged conditions and climates. All Polar King Walk-In Coolers and Freezers are delivered fully assembled and require only a simple electrical connection to put them into operation. Polar King explosion-proof units and hazardous location units are capable of withstanding pressures that result from an internal explosion. Each unit is designed to specifically prevent explosive gas air mixtures from igniting. Whether you need a standard explosion proof freezer unit or a customized freezer unit, Polar King can take care of your requirements. Polar King offers Class 1, 2, and 3, and Division 1 and 2 ratings for the interior and exterior cooler and freezer units of the walk-in module. All units comply with Chapter 5 of the National Electric Code. Each outdoor walk-in cooler and freezer unit can offer gas detection system (LEL) and/or an integrated 500 gallon containment sump. To learn more about the fiberglass advantage, contact Polar King today!