This 7'x16' through-wall Polar King walk-in cooler and beer refrigerator unit was custom built for a brewery in Fort Wayne, Indiana. This particular unit is a walk-in cooler that has several custom features to accommodate tap lines and the increased weight of beer kegs.
Custom Commercial Beer Cooler
The Gnometown Brewing Company, an Indiana brewery, required a walk-in cooler that could not only hold refrigerated products and beverages but also be able to store and distribute kegs of beer.
Cooler for Bars and Beer Refrigerator
The concept of Gnometown Brewery allows customers to brew and bottle their own beer in a temperature controlled fermenting room while sampling a wide array of beers on tap. For this purpose, we installed eight beer taps with tapper lines and a regulator. Both the tapper lines and regulator are located on the inside of the unit, with the taps on the outside. To match the interior of the bar, we installed a stainless steel backsplash behind the beer taps.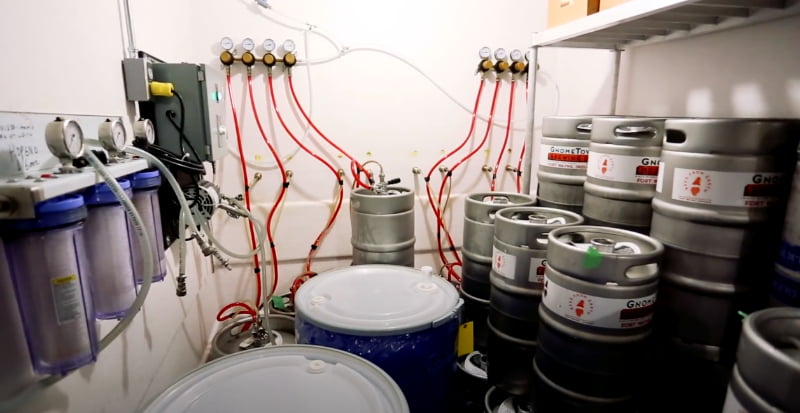 3/4 OSB Flooring, 36" Door and Pallet Bumper Guard
On the interior of the unit, our client elected to upgrade to 3/4" OSB flooring. This increased floor load was required due to the weight of keg storage. In order to conveniently load and unload the kegs of beer, we also installed 36-inch doors. Additionally, to protect the interior of the unit from accidental damage by hand trucks or pallet jacks, the customer added a pallet bumper guard.
How Many Kegs Fit in a Walk-In Cooler?
Polar King has the ability to fully customize nearly every aspect of a walk-in cooler or walk-in freezer. In Gnometown Brewery's case, this 7'x16' commercial beer cooler will fit approximately 40 double stacked kegs. 
About Polar King
As the industry's #1 manufacturer of seamless fiberglass outdoor walk-in coolers and commercial walk-in freezers, Polar King units are designed to endure even the most rugged conditions and climates. All Polar King commercial walk-in coolers and outdoor walk-in freezers are delivered fully assembled and require only a simple electrical connection to put them into operation. With a 100% seamless fiberglass design, Polar King offers the industry's only one-piece, outdoor unit. To learn more about the fiberglass advantage, or for more information, call 888-647-8231 or visit www.polarking.com.